---
Printable Spanish Worksheets and Quizzes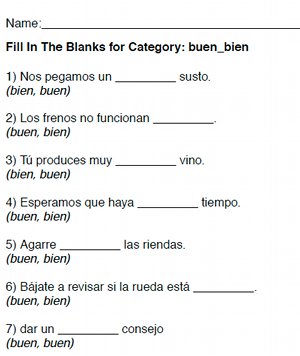 This page provides links to hundreds of printable free Spanish worksheets and quizzes. Clicking on any of the links will download a worksheet and it will save to your computer. Teachers may use these worksheets in their classrooms.
Spanish worksheets are a fantastic tool for encouraging students to fully utilize their brains. Using printable Spanish worksheets in class can also direct the students' out-of-class learning. The list below provides examples of just a few of the objectives which can be addressed by using Spanish worksheets.
Focusing students' attention in Spanish class
Moving from passively watching the teacher to actually using Spanish
Summarize Spanish content quickly
Encourage students to communicate in Spanish
One disadvantage to incorporating Spanish worksheets into one's class is the extra time that must go into creating them. However, this is no longer a problem since 123TeachMe provides hundreds of beginner Spanish worksheets at not cost.
Another disadvantage of using Spanish worksheets pertains to class time. It's easy to underestimate the time students will need to complete a Spanish worksheet. Often the process of completing a Spanish worksheet reveals hidden problems: gaps in knowledge which I assumed the students already possessed. Of course, identifying knowledge and skill gaps provides a teacher with very useful information.
The disadvantages of using Spanish worksheets for beginners and printable Spanish lessons are greatly outweighed by the benefits. Student benefits have already been indicated in the list above. Students appreciate the effort that goes into creating worksheets, little do they know I download all my Spanish worksheets in a few minutes from 123TeachMe.com!
According to the experts surveyed by the Washington Post, faulty construction of dams, and not the unnatural gusts of Hurricane Katrina, caused the flooding of New Orleans. Optimism is expecting the best in the future and working to achieve it; believing that a good future is something that can be brought about. Using printable Spanish lessons for kids, you'll be able to streamline all your classroom operations in the most economical and efficient manner irrespective of the size of your classroom. The lower productivity in Europe in comparison to the USA may not only be because of their lower investments in ICT but could be also because of their lower investments in intangibles and this has a negative effect on ICT implementation. The series of corrupt treaties and compromises signed with the printable Spanish lessons for kids is only the beginning of the many atrocities committed toward them. If he can be understood then the admissibility of his evidence would be not be altered by the speech impediment.
---